Capsule hotels: The good, the bad and the ugly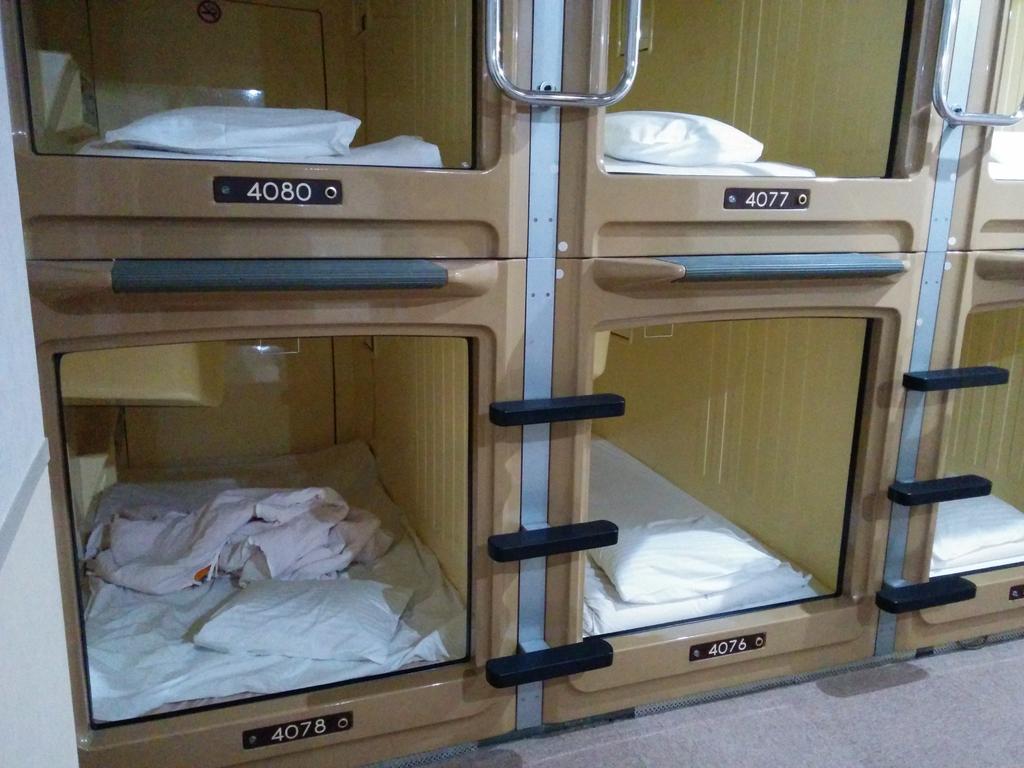 Japan was one the places I really wanted to visit again during my Asian break, but I was aware that this place was probably going to be one of the most expensive ones, particularly regarding the accommodation. When I started to research about the different options to live while I was visiting Tokyo, Osaka and Okinawa, I found out that the capsule hotels could be an interesting budget alternative.
If you have never heard about them, they are basically tiny fiberglass "rooms" (capsules) where you can watch TV, read a book, browse the web and sleep. There is room for sitting down but there is no room for standing up. I read they are a Japanese invention geared up towards workers who were working too late or too drunk to go back home, but nowadays tourist might use them.
I spent 18 days in Japan and I slept in 3 different capsule hotels in across different cities I visited. Overall the experience was fine, but I wanted to make a general review about what is good, the bad and the ugly of this accommodation alternative.
The Good
Cost: The capsule hotel are definitively a budget alternative where you can get basic accommodation for prices in the range of 2000 to 3000 JPY. This means you get a semi-private space for 20 - 25 USD per night. That's not bad at all for Japanese standards.
Location: Since the capsule hotels were developed initially for employees spending the night close to their work places, normally they have a really good location. In Tokyo I stayed very close to the Shinjuku station, in Osaka close to Dotonbori street and the Namba station and in Okinawa next to a monorail station.
Convenience: They have a common rooms offering vending machines with beverages and food. Some of them also offer laundry and dryer machines.
Wifi: All the hotels where I stayed offered decent Wi-Fi in the common rooms or in the capsules.
Privacy: It's not the same as having your own room, but the capsules give more privacy than a bed in a dorm room.
2. The Bad
Daily checkin / checkout: In most of the capsule hotels you have to checkout in the morning and checkin again in the evening regardless how many nights are you staying at their premises. Sometimes you can keep the same capsule but sometimes you are moving from capsule to capsule.
Inconvenient capsule location: You will never know what capsule you are going to get. Some of them are located in some quiet corners and some are close to areas of high transit (exit, toilet entrance, etc). If you are unlucky to be next to one the noisy spots, it might be hard to sleep.
The rattan curtains: Related to the previous point, the capsule "door" can be closed, using either a metallic door or a rattan curtain. The latter option was more common and less soundproof. If you get a loud snoring neighbor you might hear it all night long.
3. The Ugly
Smoking: Unlike in Europe where mandatory smoking bans apply in restaurants, bars, and closed areas, smoking in Japan it's not as closely regulated. In the capsule hotel of Tokyo there was a "smoking room" but in the one in Osaka it was allowed to smoke freely in the public areas. I had a not so nice flashbacks of growing up in the 70s when smoking indoors was the norm.
Overall I think the experience was fine and I'm sure it's hard to beat the capsules in the budget accommodation bracket while staying in Japan.