10 Interesting facts visiting Korea.
I have been traveling in Korea for almost 3 weeks now and I have been noticing some interesting facts across the different cities I have visited so far. Here are my findings:
---
1. Toilets everywhere.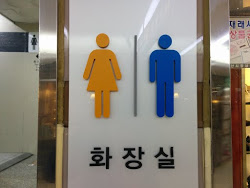 In Korea there public toilets in subway stations, bus terminals, tourist attractions, in the middle of neighborhoods, etc. It's never an issue to find a toilet because the obvious bicolor woman / man sign is always nearby no matter where you go.
---
2. Metallic chopsticks: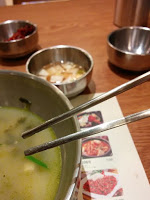 Before coming to Korea I have never seen metallic chopsticks before, but here they are the norm. In most of the restaurants you will find this type of cutlery and the reason is because apparently a former king started using silver chopsticks, believing they would turn black with poison, and the metallic costume was followed up until today.
---
3. Water, pickle radish and kimchi: Everytime you go to a restaurant they will offer you a couple of goodies before the actual food is served and most the times they will include yellow pickled radish and the omnipresent kimchi. They also put a jar of water so you refill your metallic glass every time you want.
---
4. Cheap and good food, but expensive coffee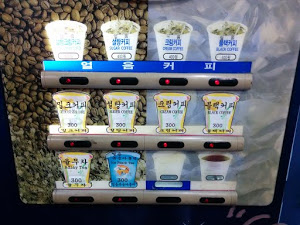 In Korea is relatively easy to find some really good inexpensive food. The street vendors offer nice fish cake, corn, Korean pancakes and chicken skewers. There are also nice restaurants serving noodles soup for less than 5 USD.
On the other hand the coffee is expensive! The exception is the instant coffee available in the subway machines, but otherwise an espresso at any random coffee will cost you as much as a nice soup of cake udon noodles!
---
5. Small towels

Every hostel, guesthouse and hotel I have used so far offers small towels for use after taking a shower. For me it's funny because this type of towel was the one I brought in my compact backpack to the breaksian trip, but here this is the standard.
---
6. Wi-fi Everywhere

In the cities I have visited there is always a free WIFI spot around the corner and if you want to pay, there is high speed WIFI spot everywhere. I read South Korea is one of the most wired countries and now understand to what extent. Now the drawback is the people is almost always looking at their phones.
---
7. Amazing integration in the transport system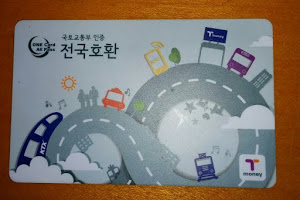 In South Korea the integrated transport system is brought to a new level. When I arrived to Seoul my Korean friend suggested getting a T-Money card and that was a brilliant idea. I have been able to use this card in the subway and bus systems of all the cities I have visited so far! I haven't used a Taxi yet, but apparently you can pay this type service with the T-Money card as well.
---
8. Big red apples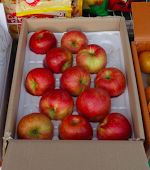 I don't know if it's an special variety of apple but here in Korea you always find this huge apples and I loved them. They are the perfect snack for a walking day visiting temples or parks.
---
9. No smoking in public parks and beaches: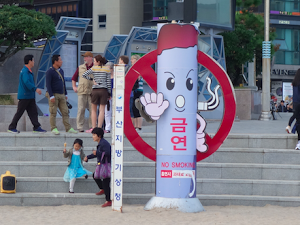 I have found many times the "No Smoking" sign in the public parks and beaches I have visited in Korea and I think it's a brilliant idea.
There are always old people walking with sticks, couples with children in prams or joggers running around the park. It's great they don't have to be second hand smokers.
---
10. The Koreans friends are one year older.
This is more a random fact. But did you know the Koreans are born "1 year old"?. This is because they count the time spent in the womb as well … interesting.
---