Airport transportation options in Ho Chi Minh City
I just came back to my hotel from the airport. My girlfriend is coming back to Europe so I went with her to say good bye (sad face
). When I was coming back to the hotel I realized that during this trip I have tried most of the options to go back and forth to the HCMC airport. I thought it would be useful for a first time visitor to write a quick review on all of them including pros and cons. So here we go.
---
1. Bus 152.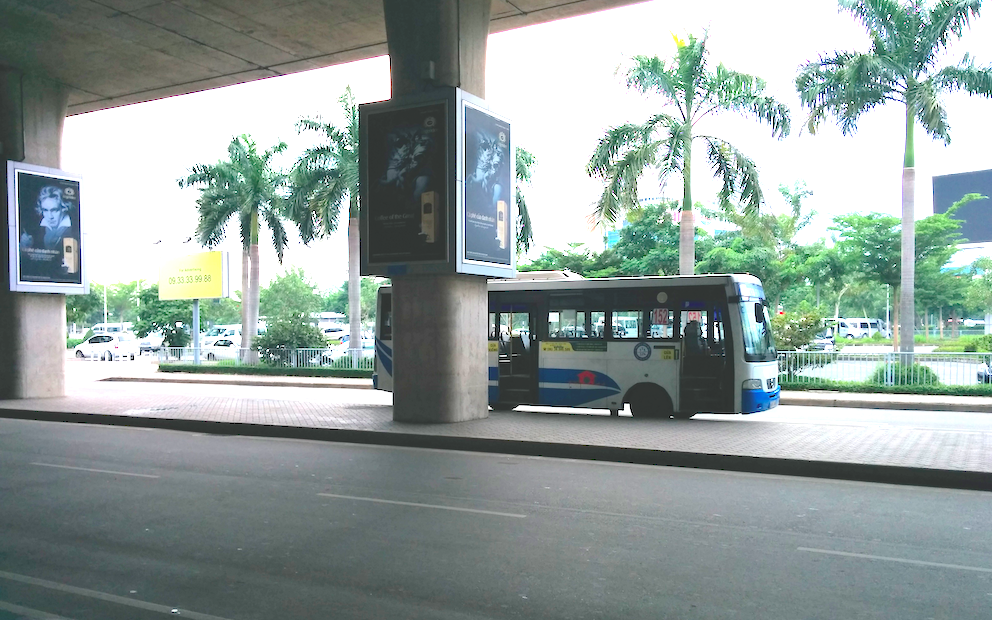 Tagline:
Backpackers Paradise.
Description
The bus leaves every 15 minutes and will drop you in the Pham Ngu Lao area.
Cost
5000 - 10000 VND

Pros:

Supercheap. You pay 5000 VND (and some extra 5000 VND if you have a large bag).
Straightforward. You catch it either in the domestic or international terminals.
You get the experience of travelling like a local.

Cons:

The bus only runs until 6pm. If you arrive later, this option doesn't work
It's a normal bus, so having big or multiple bags could be a problem.
The bus stop is not clearly marked. You have to look it for yourself
---
2. Uber.
Tagline:
Sharing economy Vietnamese style
Description
After installing the Uber application and login in, you select the  pick up location and destination, requesting the car. The cost is charged to the credit card entered in the account.
Cost
101000 - 10800 VND

Pros:

From the private transport options is the cheapest ones.
You can track the driver in real time and know when he / she will arrive.
You don't have to carry around vietnamese dongs. The trip is charged to your credit card in your local currency

Cons:

It works really well going from the city to the airport but not the other way around (it's hard to find cars available).
The experience depends on the driver. Some are good, some others try to go slowly or take unnecessary turns to make the tip longer, so you need to keep an eye on your trip using a GPS and gently remind the driver you know where are you going.
---
3. Reputable taxi company (ie. Mai Linh or Vinasun).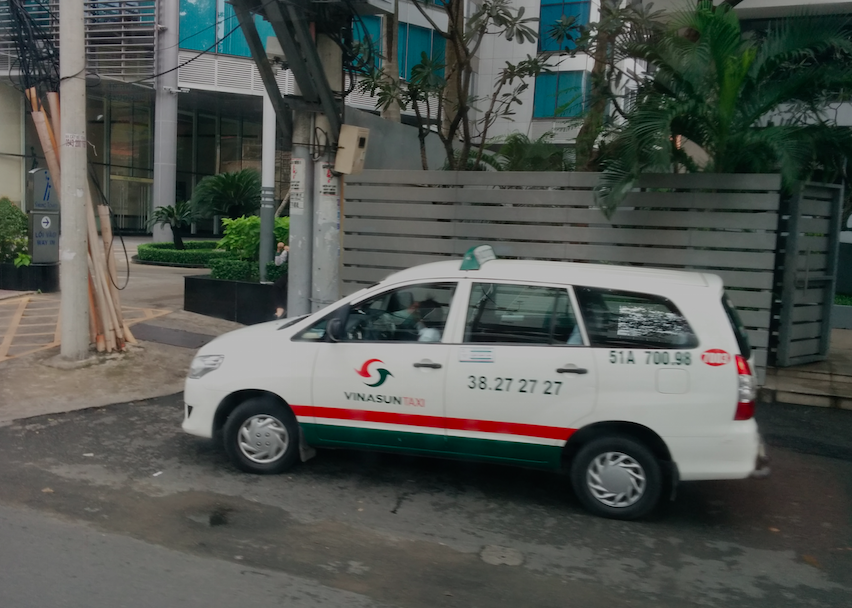 Tagline:
Traditional taxi service.
Description
You get the car in one of the taxi stands of the HCMC Airport. The departures area is less crowded and there a less touts pushing you to get their services.
Cost
140000 - 150000 VND (including 10000 extra charge)

Pros:

Honest drivers with taximeters that work as expected.
You know more or less how much you are going to pay .
It's a comfortable ride to the city center

Cons:

You have to patiently wait for one of this taxis to appear. A good strategy is to be near but not in the taxi counter and wait for one of those to turn up.
The drivers might not speak english so you will have to know that an extra 10000 VND should be added to the fare. The driver will remind you about this fact … but in Vietnamese :).
---
4. Private transport cars.
Tagline:
Private transport cars with a defined fare.
Description
The have some booths next to the arrivals area in both the domestic and international terminals and offer a "taxi" service, that's rather a private car with a predefined fare you pay beforehand.
Cost
200000 - 300000 VND

Pros:

If you arrive late in the night and there not are too many taxis around, it could be a good alternative.
The employees speak english.
You prepay the ride, so no need to worry about how much is going to cost.

Cons:

You have to haggle with the employee in the booth to get a decent fare. The first price they quote is way to expensive.
Once you pay you might need to wait some minutes before the car actually arrives.
---
5. Shady company taxi.
Tagline:
Enjoy the view while you are being ripped off.
Description
The taxis look legit, but they copycats of known companies with tampered taximeters ready to charge you as much as possible.
Cost
380000 - 400000 VND (or more)

Pros:

None. Crappy tour of the city in broken english?

Cons:

The taximeters are tampered. The numbers in the LED display happy go up like crazy!
You pay 4 or 5 times more compared to Uber!
They try to get away on not giving you change.
Conclusion: If you have time and a small bag, get the bus. It's not expensive and it works quite well. If you have a big bag and not so much time, give a try to Uber or one of reputable taxi companies.
I hope this guide can be useful for you. Guess which one did I use this morning ?
---