Budget flying in Asia.
One of the first questions I needed to solve when I was planning my trip to Asia was what type of flight ticket I needed to get. Some friends at work mentioned the "Round the world" (RTW) tickets offered by some airline alliances (eg. Star Alliance, OneWorld or Sky Team). This was definitively an interesting idea since you get a ticket allowing you to hop between different countries. If you want to get one of those special tickets you need to define how many stopovers do you need, in what direction you are going to travel and how far are you planning to go. This is appealing because you get the chance to visit many countries around the world with a single ticket flying with some good airlines at a relatively low price. I read an comprehensive RTW article article in Wikivoyage, with some specific details about the different alternatives in the market.
Even if this type ticket presented as an appealing choice, I decided at the end to fly to Singapore using a normal ticket and then to start traveling using low cost airlines in Asia. My experience with low budget carriers such as Airasia has been very positive and since I'm going to be only on that region (and having the flexibility is quite important to me), I chose to use those companies for my regional flights.
I wanted to explore with this post what are the other low cost airlines available in the Asian market. This is what I found (I will keep updating this post as I found and try out more):
---
Headquarters: Kuala Lumpur
Destinations by country: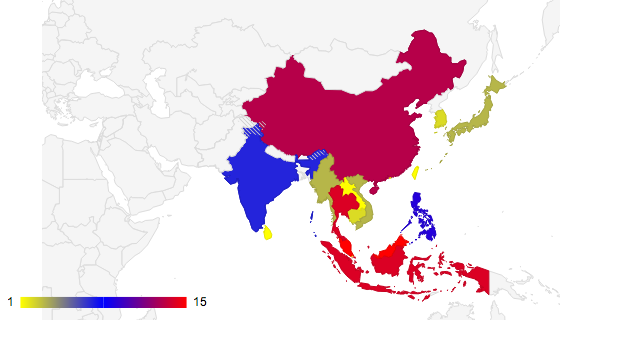 | | | |
| --- | --- | --- |
| | Country | Destinations |
| | Cambodia | Siem Reap,Phnom Penh |
| | Hong Kong | Hong Kong |
| | India | Chandigarh, Kochi, Bangalore, Jaipur, Kolkata, Goa, Tiruchirapalli, Chennai |
| | Indonesia | Balikpapan, Lombok, Semarang, Pekanbaru, Makassar, Padang, Denpasar, Jakarta, Solo, Surabaya, Palembang, Bandung, Yogyakarta, Banda Aceh |
| | Japan | Nagoya, Tokyo, Osaka |
| | Korea | Seoul, Busan |
| | Laos | Vientiene |
| | Macau | Macao |
| | Malaysia | Kuala Lumpur, Kuching, Tawau, Alor Setar, Langkawi, Penang, Labuan, Sandakan, Bintulu, Kota Bharu, Kota Kinabalu, Miri, Johor Bahru, Sibu, Kuala Terengganu |
| | Myanmar | Mandalay, Naypyidaw, Yangon |
| | China | Shanghai, Xi'an, Guangzhou, Nanning, Guilin, Beijing, Hangzhou, Changsha, Chongqing, Kunming, Wuhan, Shenzhen, Chengdu |
| | Philippines | Puerto Princesa, Kalibo, Tagbilaran, Iloilo, Clark, Davao, Cebu, Tacloban, Manila |
| | Taiwan | Taipei |
| | Sri Lanka | Colombo |
| | Singapore | Singapore |
| | Thailand | Ubon Ratchathani, Trang, Udon Thani, Surat Thani, Krabi, Chiang Mai, Chiang Rai, Phuket, Khon Kaen, Nakhon Si Thammarat, Nakhon Phanom, Narathiwat, Hat Yai, Bangkok |
| | Vietnam | Da Nang, Ho Chi Minh City, Hanoi |

My Experience: So far, I'm extremely satisfied with their service. In the past  I traveled from Bangkok to Chiang Mai, Chiang Mai to Phuket and Singapore to Bali, using this carrier. It's a low budget airline so as expected you have to pay for the food and drinks, but the service provided on board is top quality, the flew crew is really polite and the aircraft's appear properly maintained (they use mainly Airbus A320). I will fly more with Airasia during my trip so stayed tuned.
---
Headquarters: Singapore
Destinations by country: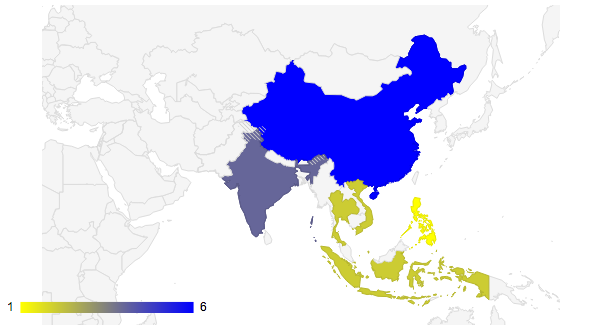 | | | |
| --- | --- | --- |
| | Country | Destinations |
| | China | Guangzhou, Haikou, Macau, Hong Kong, Shenzhen and Xiamen |
| | Indonesia | Jakarta, Padang |
| | Philippines | Manila |
| | Thailand | Bangkok and Phuket |
| | Vietnam | Hanoi and Ho Chi Minh City |
| | India | Chennai, Tiruchirapalli, Bangalore and Trivandrum |
---