Jeju Loveland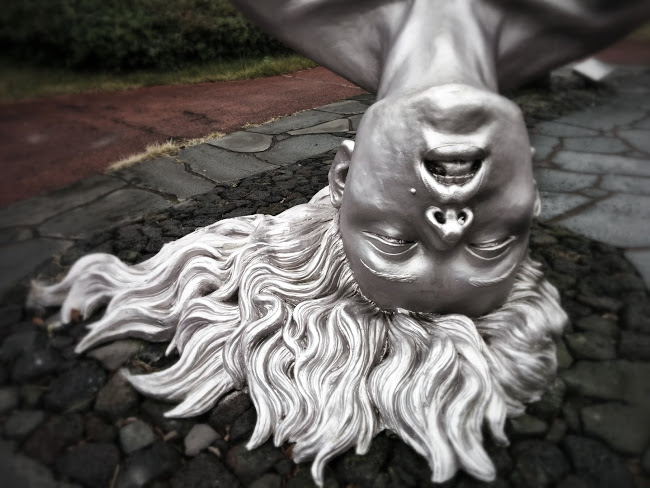 As I was describing in my last Jeju post I woke up with a hangover after
having a really nice dinner & party
with some Korean guys who were staying at the same guesthouse as myself. I forgot to mention that the night before after a couple of glasses of rice wine and a couple of songs, one of the guest who love Jeju and had visited the island many times, pointed out in the tourist paper map I got at the airport her favorite places.
I realized that the nice spots were spread around the Island and to get a glimpse on them I would have to travel a lot and sleep anywhere on the way. So I came back to the airport packed a couple of clothes changes and left my backpack in the left luggage place (the price was not too bad, 21000 KRW for the 3 days).
I felt free with my tiny black bag ready to beat the road and travel the Island but when I was about to take a ride to go to the bus terminal I stared at the sky and it was quite grayish and rainy. I thought maybe a museum or an indoors attraction would be a good plan for the first day.
I entered in my phone "What to do in Jeju" and the second result was "Jeju Loveland", I started to read what this place was about and I got really curious. They describe themselves as "... a place where sexually oriented art and eroticism meet ... the visitor can appreciate the natural beauty of sexuality ..."
I kept reading and I found out a very interesting historic fact about the Island: Jeju traditionally has been the honeymoon destination for the newly weds in Korea, particularly after the war when the travel abroad was quite restricted. Most of the marriages back then were arranged and the honeymooners inexperienced, so the island became the place to offer "sex ice breakers" for those couples to get started (I guess parks such as loveland were built following this tradition).
Currently the Island has 3 of those different parks including: The museum of Sex and Health, World Eros Museum and Loveland. As I was mentioning before I decided to visit loveland because it was relatively close the airport and it was recommended in most of the sites I reviewed. The park can be accessed by either public transportation or a taxi (this option is quicker to get in).
---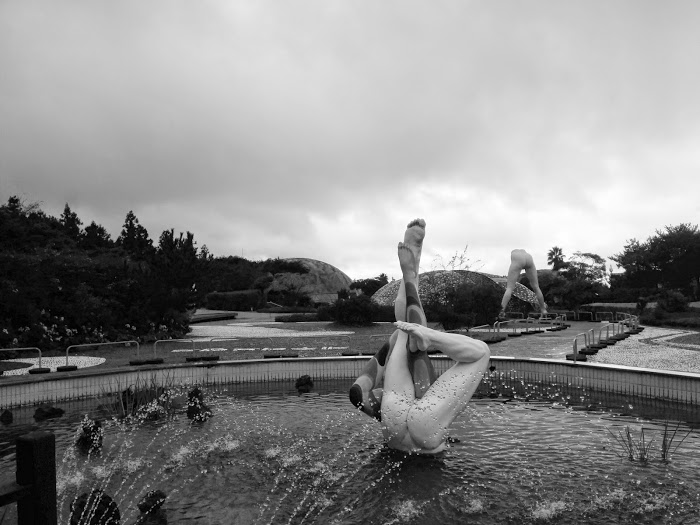 ---
Love Land is basically an outdoor sex-themed sculpture park featuring 140 different pieces representing men, women and couples in multiple sexual positions, plus some phalluses, labia, etc. The sculptures were created by 20 different artists, mainly from the Seoul Hongik University. There were quite some visitors when I went to the park, particularly a couple of groups of elderly women giggling at every exhibition :).
I found the place quite interesting because it opens a window on the Korean view on sexuality. If you want to see what the park look like, you can the picture gallery below or browse the  Jeju Loveland album directly in the breaksian google+ page.
---