Amazing autumn colors visiting Nara.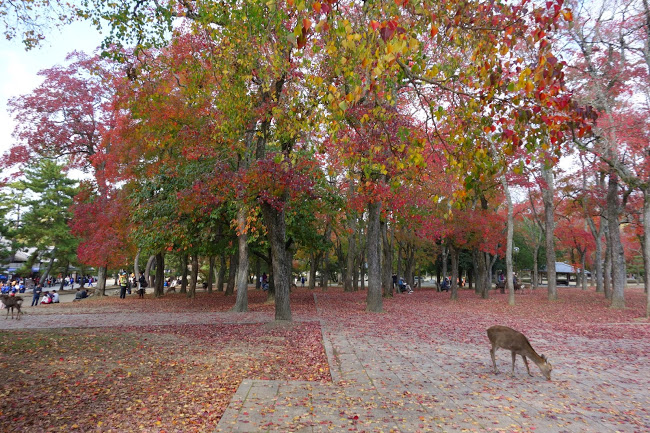 Yesterday I was looking for a picture to replace my FB banner so I started to flip through the photos I have been taking during the last few months. When I arrived to the Nara album, I slowed down because I started to remember how beautiful were the colors on that autumn day when I visited this Japanese city. I finally settled for a B&W version of picture I took of the Kōfuku-ji temple just before sunset, to put in my banner. I also decided to write briefly about my experience visiting the city.
When I was planning my Japanese trip, Osaka seemed like good stop over between Tokyo and Okinawa because both the flight schedule and the price were quite good. The last time I met my former Japanese colleague in Tokyo, he gave me some really good tips about places to visit in Osaka and among those he described how Nara was definitively a must: It was very close to Osaka and it was full of ancient temple (It was the Japanese capital between 710 and 784).
He also recommended to stay in the Namba district and that turned out to be perfect to visit Nara because there are plenty of commuter trains leaving from the Namba station ending in the ancient Japanese capital. I boarded the Kintetsu Nara Line (奈良線) and in just 45 minutes I was in the Kinetsu Nara station. From there it was very easy to walk to the Nara Park where all the Historic Monuments are located.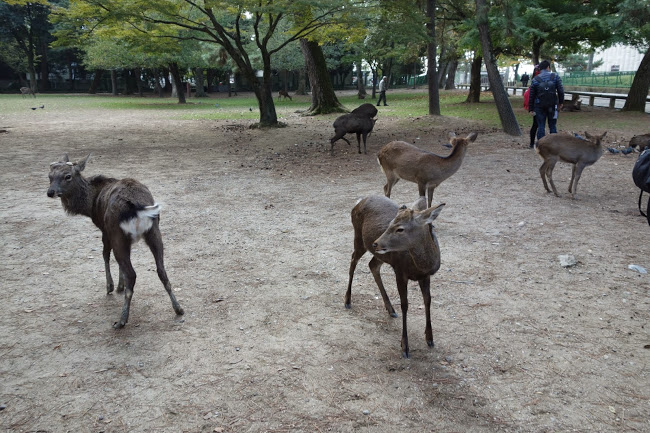 When I arrived to the park I noticed there were as many or even more deers than the ones I saw in Miyajima last time I visited Japan. They are tamed so most of them are not aggressive, but they tend to know where is the food, so as soon as the tourist began to arrive they were gladly coming to greet them and staring at them with a face of "ok feed me now". Actually across the park there are vendors selling "Deer Cookies", so you can feed them properly if you want to.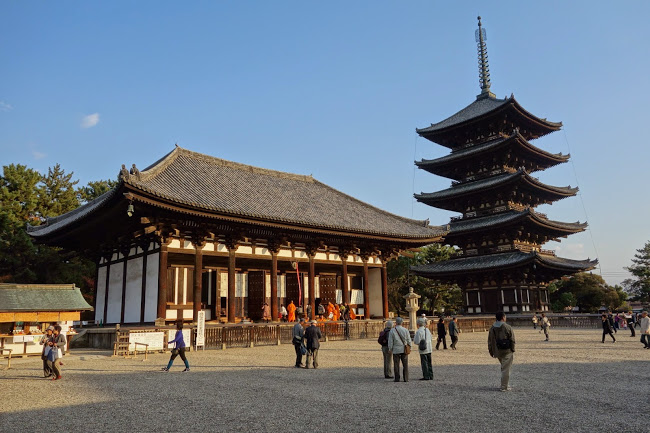 The first temple I found while I was walking around was the Kōfuku-ji temple, composed of many beautiful structures including the east golden hall (Tōkon-dō) and the five story pagoda that you can observe above. The pagoda was particularly impressive. It's not only huge (the second highest in Japan) but also really well preserved taking into account that the restoration was completed back in 1426.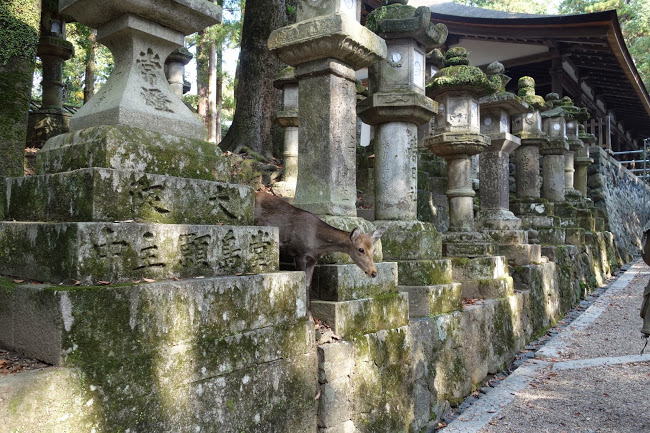 After I finished visiting and taking pictures in Kōfuku-ji, I decided to continue my trip by heading towards the Kasuga Grand Shrine. It was a nice walk, passing through a lot of green spaces full of cookie-eating deers and trees with lovely autumn leaves. The path leading to the shrine is composed by stone lanterns such as the ones above and of course there are deers sneaking around.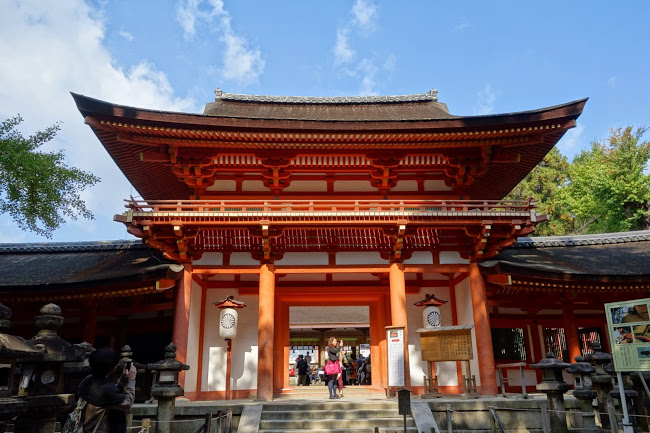 The actual shrine is a shinto temple famous for its bronze latterns inside and the stone lanterns path I was describing before. I got the opportunity to take so nice pictures and I continued walking, exploring the green paths around the shrine. I came back through the same road and passed next to the Nara National Museum but it was absolutely packed with domestic tourists, so I decided to drop the idea of visiting it and continued to the next stop, Tōdai-ji: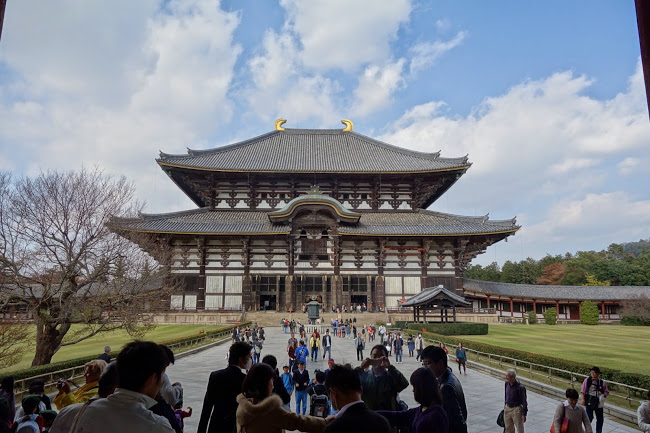 This wooden temple is massive (until 1998 it was the world's largest wooden building). It's also impressive to read that this temple is an "scaled down" version of the original one that was 30% bigger and contained a couple of 100 meter pagodas. But it's Japan after all, so that original structure was destroyed by an earthquake.
At this point of my visit I think I folded the map and I continued just walking around getting lost in the gorgeous Nara park. I arrived to a temple with a nice panoramic view of the area where I drank some green tea for free: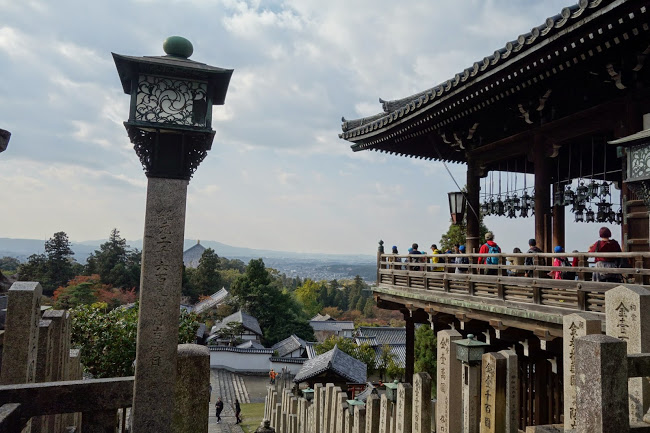 When I was walking down from there I saw a group of old ladies gathered in a narrow street painting the scenic landscapes on the mountain.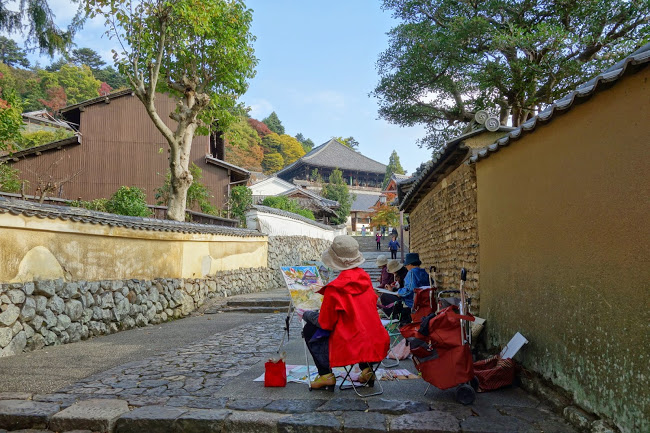 I finished the visit by coming back to Kōfuku-ji and repeating some pictures I had taken in the morning under backlight conditions. Finally I took the train back to Namba feeling extremely satisfied for such a nice daytrip in the ancient capital of Japan.
If you want to see more pictures, please visit my Nara Pictures Album
---