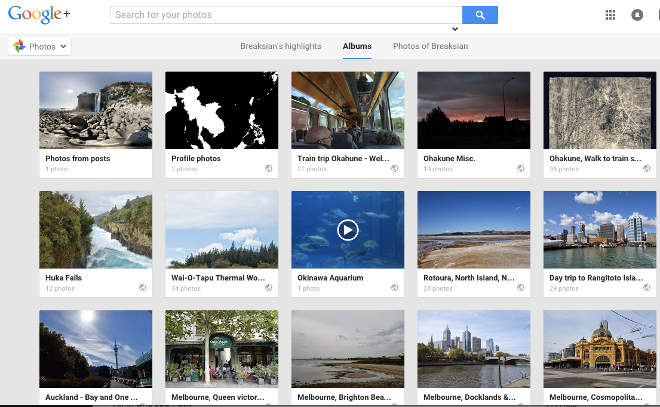 I have been adding some pictures to different posts on this blog and they are hosted in the breaksian.com domain under the "img" subdirectory. Nevertheless they are just a small subset of the complete photos I have been taking during this career break. When I was planning where to host those images, I decided to use picasaweb (Google Photos) to upload and backup the full set.
I have been using the picasaweb albums for many years and continued using it after the integration into Google Plus. I really like the uploader interface, the available space you get for free and the easiness on sharing the content with the visitors.
My girlfriend was asking me if I had plans to share Australia and New Zealand (my current travel location) pictures and I realize that even if I have been uploading pictures from those very interesting places, they are not "visible" on this blog.
So I added a "photos" link on the top menu pointing to:
https://plus.google.com/photos/+Breaksian2014/albums

This url takes you to a Photos interface where you can see all the albums I have been creating in chronological order. You can always visit my google plus page and see the last pictures I shared, but this view is nice if you just want to see the albums.
I hope you like them.