Cheonjiyeon and Jeonbang waterfalls in Jeju Island.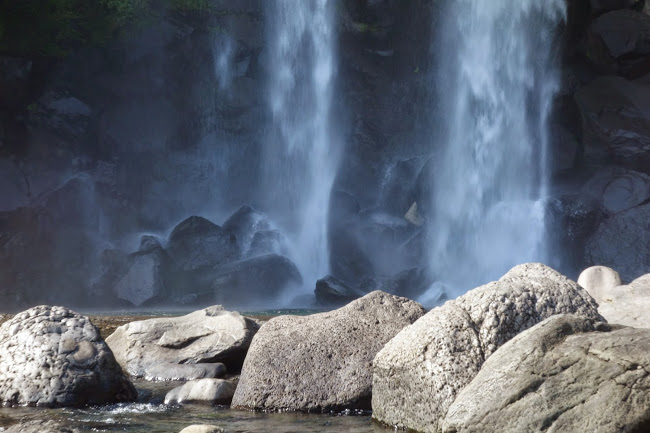 Jeju is an oval shaped island with the Mount Halla in the middle. In the northern part of the Island, Jeju city is the most important city, while in the Southern part Seogwipo is the biggest one. I spent the second night of my trip in Seogwipo because I read there were some interesting waterfalls nearby.
Due to its volcanic origin origin Jeju possesses not only a fair amount of volcanic rock formations and lava caves (such as the ones I was describing in the Hallim park), but also some majestic waterfalls. I had the opportunity to visit the closest ones to Seogwipo: Cheonjiyeon and Jeonbang.
They were both beautiful and different, but I particularly enjoyed Jeonbang. This is the only waterfall in Asia that falls directly into the sea. The water falls from a high cliff into a rock formation near the ocean. As soon as you get closer you hear the roar of the water crashing into the stones. I spent almost an hour at this place because it was relaxing to see the ocean at one side and the waterfalls on the other side, listening to the sound of the waterfall and feeling the tiny drops of water in the skin:
---
---